Are you able to help a short staffed plant?
Our water professionals in Ohio are one large family and we want to help each other in this time of need. We are all in this together. We know many of our facilities could find themselves short staffed due to COVID-19, use this page if you are available to help keep Ohio's wastewater operations running during this unprecedented time. Please complete the form below to be added to the list.
Please check with your employer or organization as appropriate prior to filling out this form.
By completing this form you consent to your information being posted on our website for both members and nonmembers to see.
Click here to get added to the list
---
Do you need help at a short staffed plant?
Below is a list of people or organizations who are willing to help. Please do not use this list other than what it is intended for, which is helping each other through this crisis.
---
Stanley Jay Roberts
Village of Bradford/Village of Gettysburg
Bradford, OH
jayohio19@yahoo.com
937-417-9952
Class I Water & Class II Wastewater
---
Christopher Gilcher
Southwest Licking Community Water & Sewer District
New Concord, OH
cgilcher@swlcws.com
614-348-6627
Ohio EPA Water Supply Operator III
Ohio EPA Wastewater Treatment Operator III
Ohio WEA Wastewater Lab Analyst I
---
Jeff Lamson
City of Fremont
Fremont, OH
lamson87@icloud.com
419-680-4837
Class IV Wastewater Operator
Class IV Wastewater Analyst
---
Bryan Riley
Jeffersonville, OH
bryanriley2@yahoo.com
740-572-6142
WW2 and WS1
---
Kevin Connor
City of Defiance
Defiance, OH
kconnor@cityofdefiance.com
419-782-0841
Ohio EPA Wastewater III
Ohio EPA Water I
OWEA Lab Analyst III
---
Nathan Coey
City of Wooster
Wooster Ohio; Residence Sunbury Ohio
ncoey@woosteroh.com
740-817-2121
Ohio Wastewater 4, Ohio Water Supply 3
Additional Notes: Operations assistance in the system and facilities. Laboratory assistance. Maintenance assistance
---
Frank D'Ambrosia
Retired
Archbold, Ohio
fdambrosia1951@gmail.com
419-572-1120
Ohio Wastewater 3
---
Tim Newland
City of Bellefontaine
Bellefontaine, OH
tnewland@ci.bellefontaine.oh.us
937-935-1636
Class III Water Supply
---
Eric Wenzinger
Ayersville Water & Sewer District
Defiance, OH
eric.awsd@ayersvilletelco.com
419-789-0383
WS1 & WS2-OIT
---
Larry Hanes
Hanes Environmental Inc.
Marion, OH
hanesenviro@gmail.com
740-361-6080
1-Class l Wastewater
1- Class lll Wastewater
---
Mike Heniken
Retired
Marblehead, OH
mheniken@yahoo.com
614-804-5693
Ohio Class 3 Wastewater Operator
While I have a Class 3 operator's license, I have never been in responsible charge of a treatment plant. I can find my way around one without a problem. I recently retired after spending more than 40 years primarily working in the City of Columbus centralized Surveillance Laboratory. Always willing to get my hands dirty.
---
William Traugh
Nelsonville WTP
Nelsonville, OH
jeffwfilter@aol.com
740-753-2558
Class 3 water plant operator
---
Joseph Hickman
City of Newark, OH
Granville, OH
jrh.inc@gmail.com
740-814-7342
WS-4
WW-3
Additional Notes: Prefer to stay central Ohio
---
Eric MacMichael
City of Bellevue
Bellevue,OH
Eric.MacMichael@cityofbellevue.com
419-217-8418
WW Class IV
---
Kevin Bock
Retired
New Knoxville, OH
ripbock@nktelco.net
937-418-9314
WW III
---
Edward Nutter
Retired
Newark, Ohio
enutter@windstream.net
740-334-1312
WW3
---
Bob Brown
Retired
Kent, Ohio
r.w.brown454@gmail.com
330-842-0233
Ohio Class IV Wastewater
---
David Mosher
City of Wooster
Wooster, Ohio
d.mosher@hotmail.com
(330) 347-3615
WW 3, WS 2
Additional Notes: 29 plus years of operational knowledge
---
Kim Riddell-Furry
Alloway
Delphos, OH
kim.riddell@alloway.com
419-234-4507
Class IV Wastewater Operator
Class II Wastewater Analyst
---
Christen Wood
Summit County
Kent, Ohio
Willoughby, Ohio
Akron, Ohio
christen.m.wood@gmail.com
440-813-3739
Ohio EPA Class III Wastewater Operator
Professional Wastewater Operator Class IV (National, not recognized in Ohio)
Ohio Wastewater Laboratory Analyst Class II
Additional Notes: Experience with many plants from package size all the way up to 400MGD.
---
Joan Waugh
City of Jackson WWTP
Jackson, Ohio
redwaugh@att.net
740-988-4423
OEPA Class III Wastewater Operator License
OWEA Lab Analyst II Certification
OWEA Pretreatment Inspector Certification
---
Ted Bennett
Jones & Henry Engineers
Toledo, OH
tbennett@jheng.com
567-661-0265
Ohio PE
---
Dave Wilson
BL Anderson
Butler County, Ohio
dwilson@blanderson.com
513-907-3793
Ohio Wastewater IV
Ohio Water Distribution II
---
Jeffrey Meinert Jr.
City of Cincinnati, MSD
Milford, Ohio
meinertj7@gmail.com
419-706-6154
Waste Water Treatment 1


---
Marc Jones
AVJ Environmental LLC
Amherst, Ohio
Mjones783@sbcglobal.net
440-823-4372
Class 4 wastewater state of Ohio
---
John J. Nemet
Retired
Newton Falls, Ohio 44444
Nemetec@aol.com
330-606-6786
Class III Ohio Water Supply
Class IV Wastewater
Class I OWEA Voluntary Laboratory Certification
Water and Wastewater Laboratory Supervisory and Operational Experience
---
John Garrett
Delaware County Regional Sewer District
Orient, OH
614-499-4434
jgarrett@co.delaware.oh.us
Ohio EPA Wastewater Treatment Operator III
Ohio WEA Wastewater Lab Analyst I
---
Laura Adams
City of Twinsburg
740-683-5689
Class IV Wastewater Operators License
Class II Wastewater Lab Analyst Certification
Class B CDL with Tankers Endorsement.
---
Chris Kobus
City of Rocky River WWTP
Rocky River, Ohio
216-526-4616
waste water treatment class 1
---
Barry Oiler
City of Rocky River WWTP
Rocky River, Ohio
440-356-5640
boiler@rrcity.com
Wastewater Class 1
Instrumentation Maintenance Tech. Electrical, Instrumentation, SCADA repair.
---
Mark Stoffan
Retired
Northwood, Ohio
419-693-6086
m_stoffanator@yahoo.com
Class III Water and Class III Wastewater Operator licenses and a Class IV wastewater lab analyst license
Have been licensed in water lab procedures.
---
Chad Hess
Village of New Waterford WTP/WWTP
New Waterford, OH
330-360-0387
nwvillagewtp@yahoo.com
Water Supply II
Wastewater Treatment II

---
Email info@ohiowea.org to have your name removed from this list.
OWEA is not responsible for the individuals utilizing this list.
---
---
Additional Resources
EPA Guidance During this Time
Designating Essential Employees and Service Providers
Ohio EPA has received questions regarding essential employees and suppliers/contractors that may be vital to ensuring water and wastewater facilities continue operating during periods of emergency.
Ohio EPA would provide the following guidance:
Municipal systems (village, county and city) should have a process in place to designate essential employees and provide credentials identifying them.
Utilities should review their contingency plans and identify material suppliers, labs, contract operators, etc. that are essential to ensuring the continuing operation of water and wastewater facilities. Once identified, utilities should reach out to those suppliers and ask them to join the Ohio Public Private Partnership(OP3) by going to the following weblink : https://homelandsecurity.ohio.gov/op3.stm and clicking the link to join the partnership. The location is demonstrated in the screenshot below.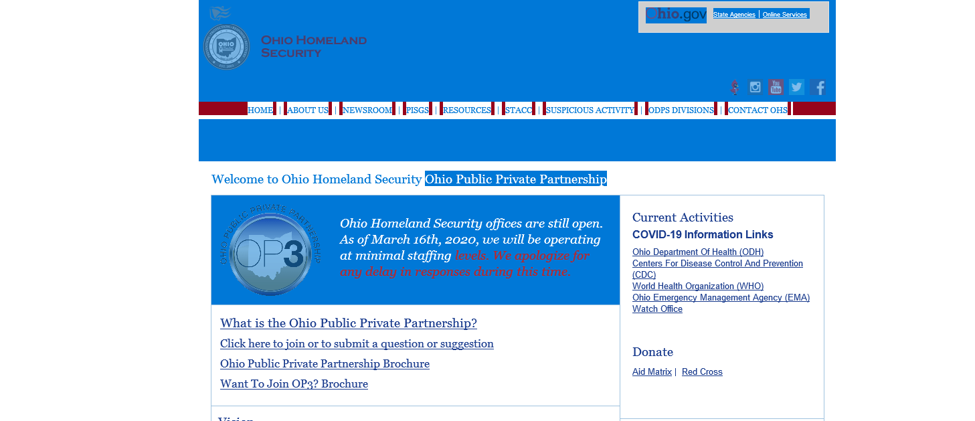 In the event of an emergency declaration that limits travel, membership in the partnership will give the suppliers, labs, certified operators, etc. the ability to request approval and credentials as essential to the treatment of water or wastewater. These credentials will allow them to continue to provide the services necessary to keep water and wastewater facilities functioning.
Private utilities, contract operators and Water and Sewer Districts should take the same steps outlined above for joining OP3.
---
Trusted COVID-19 Resources

https://www.epa.gov/coronavirus/coronavirus-covid-19-resources-state-local-and-tribal-agencies-and-associations%23press

https://epa.ohio.gov/dsw/covid19
https://www.cdc.gov/coronavirus/2019-ncov/index.html
https://coronavirus.ohio.gov/wps/portal/gov/covid-19/
https://www.who.int/emergencies/diseases/novel-coronavirus-2019/technical-guidance
---