Are you able to help a short staffed plant?
Our water professionals in Ohio are one large family and we want to help each other in this time of need. We are all in this together. We know many of our facilities could find themselves short staffed due to COVID-19, use this page if you are available to help keep Ohio's wastewater operations running during this unprecedented time. Please complete the form below to be added to the list.
Please check with your employer or organization as appropriate prior to filling out this form.
By completing this form you consent to your information being posted on our website for both members and nonmembers to see.
Click here to get added to the list
---
Do you need help at a short staffed plant?
Below is a list of people or organizations who are willing to help. Please do not use this list other than what it is intended for, which is helping each other through this crisis.
---
Stanley Jay Roberts
Village of Bradford/Village of Gettysburg
Bradford, OH
jayohio19@yahoo.com
937-417-9952
Class I Water & Class II Wastewater
---
Christopher Gilcher
Southwest Licking Community Water & Sewer District
New Concord, OH
cgilcher@swlcws.com
614-348-6627
Ohio EPA Water Supply Operator III
Ohio EPA Wastewater Treatment Operator III
Ohio WEA Wastewater Lab Analyst I
---
Jeff Lamson
City of Fremont
Fremont, OH
lamson87@icloud.com
419-680-4837
Class IV Wastewater Operator
Class IV Wastewater Analyst
---
Bryan Riley
Jeffersonville, OH
bryanriley2@yahoo.com
740-572-6142
WW2 and WS1
---
Kevin Connor
City of Defiance
Defiance, OH
kconnor@cityofdefiance.com
419-782-0841
Ohio EPA Wastewater III
Ohio EPA Water I
OWEA Lab Analyst III
---
Nathan Coey
City of Wooster
Wooster Ohio; Residence Sunbury Ohio
ncoey@woosteroh.com
740-817-2121
Ohio Wastewater 4, Ohio Water Supply 3
Additional Notes: Operations assistance in the system and facilities. Laboratory assistance. Maintenance assistance
---
Frank D'Ambrosia
Retired
Archbold, Ohio
fdambrosia1951@gmail.com
419-572-1120
Ohio Wastewater 3
---
Tim Newland
City of Bellefontaine
Bellefontaine, OH
tnewland@ci.bellefontaine.oh.us
937-935-1636
Class III Water Supply
---
Eric Wenzinger
Ayersville Water & Sewer District
Defiance, OH
eric.awsd@ayersvilletelco.com
419-789-0383
WS1 & WS2-OIT
---
Larry Hanes
Hanes Environmental Inc.
Marion, OH
hanesenviro@gmail.com
740-361-6080
1-Class l Wastewater
1- Class lll Wastewater
---
Mike Heniken
Retired
Marblehead, OH
mheniken@yahoo.com
614-804-5693
Ohio Class 3 Wastewater Operator
While I have a Class 3 operator's license, I have never been in responsible charge of a treatment plant. I can find my way around one without a problem. I recently retired after spending more than 40 years primarily working in the City of Columbus centralized Surveillance Laboratory. Always willing to get my hands dirty.
---
William Traugh
Nelsonville WTP
Nelsonville, OH
jeffwfilter@aol.com
740-753-2558
Class 3 water plant operator
---
Joseph Hickman
City of Newark, OH
Granville, OH
jrh.inc@gmail.com
740-814-7342
WS-4
WW-3
Additional Notes: Prefer to stay central Ohio
---
Eric MacMichael
City of Bellevue
Bellevue,OH
Eric.MacMichael@cityofbellevue.com
419-217-8418
WW Class IV
---
Kevin Bock
Retired
New Knoxville, OH
ripbock@nktelco.net
937-418-9314
WW III
---
Edward Nutter
Retired
Newark, Ohio
enutter@windstream.net
740-334-1312
WW3
---
Bob Brown
Retired
Kent, Ohio
r.w.brown454@gmail.com
330-842-0233
Ohio Class IV Wastewater
---
David Mosher
City of Wooster
Wooster, Ohio
d.mosher@hotmail.com
(330) 347-3615
WW 3, WS 2
Additional Notes: 29 plus years of operational knowledge
---
Kim Riddell-Furry
Alloway
Delphos, OH
kim.riddell@alloway.com
419-234-4507
Class IV Wastewater Operator
Class II Wastewater Analyst
---
Christen Wood
Summit County
Kent, Ohio
Willoughby, Ohio
Akron, Ohio
christen.m.wood@gmail.com
440-813-3739
Ohio EPA Class III Wastewater Operator
Professional Wastewater Operator Class IV (National, not recognized in Ohio)
Ohio Wastewater Laboratory Analyst Class II
Additional Notes: Experience with many plants from package size all the way up to 400MGD.
---
Joan Waugh
City of Jackson WWTP
Jackson, Ohio
redwaugh@att.net
740-988-4423
OEPA Class III Wastewater Operator License
OWEA Lab Analyst II Certification
OWEA Pretreatment Inspector Certification
---
Ted Bennett
Jones & Henry Engineers
Toledo, OH
tbennett@jheng.com
567-661-0265
Ohio PE

---
Dave Wilson
BL Anderson
Butler County, Ohio
dwilson@blanderson.com
513-907-3793
Ohio Wastewater IV
Ohio Water Distribution II


---
---
---
Email info@ohiowea.org to have your name removed from this list.
OWEA is not responsible for the individuals utilizing this list.
---
---
Additional Resources
EPA Guidance During this Time
Designating Essential Employees and Service Providers
Ohio EPA has received questions regarding essential employees and suppliers/contractors that may be vital to ensuring water and wastewater facilities continue operating during periods of emergency.
Ohio EPA would provide the following guidance:
Municipal systems (village, county and city) should have a process in place to designate essential employees and provide credentials identifying them.
Utilities should review their contingency plans and identify material suppliers, labs, contract operators, etc. that are essential to ensuring the continuing operation of water and wastewater facilities. Once identified, utilities should reach out to those suppliers and ask them to join the Ohio Public Private Partnership(OP3) by going to the following weblink : https://homelandsecurity.ohio.gov/op3.stm and clicking the link to join the partnership. The location is demonstrated in the screenshot below.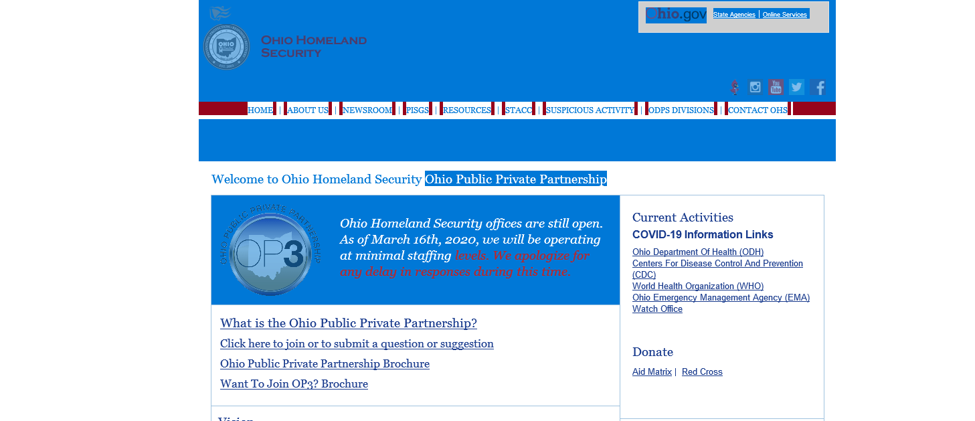 In the event of an emergency declaration that limits travel, membership in the partnership will give the suppliers, labs, certified operators, etc. the ability to request approval and credentials as essential to the treatment of water or wastewater. These credentials will allow them to continue to provide the services necessary to keep water and wastewater facilities functioning.
Private utilities, contract operators and Water and Sewer Districts should take the same steps outlined above for joining OP3.
---
Trusted COVID-19 Resources
https://epa.ohio.gov/dsw/covid19

https://www.cdc.gov/coronavirus/2019-ncov/index.html
https://coronavirus.ohio.gov/wps/portal/gov/covid-19/
https://www.who.int/emergencies/diseases/novel-coronavirus-2019/technical-guidance
---
COVID-19 Updates
OEPA Update on April 2

May 6, 2020 Operator exams have been postponed and will be rescheduled once the state of emergency ends.
Updated as of March 24 at 2 PM
At OWEA our members' safety and wellbeing is always our utmost concern. The current pandemic situation is changing daily and as it does, so will we. While we are hopeful the chaos surrounding COVID-19, will have passed by May, we also recognize that many members may not be able to travel at that time. In response, OWEA has rescheduled the May 14th Collections Workshop for July 23. All current registrations will be transferred to the new date. We appreciate your understanding regarding this and if you have any questions or concerns, please contact info@ohiowea.org.
Updated as of March 23 at 2 PM
We are all in unchartered waters right now and want to make sure you know that we are here for you, our members. Per Gov. DeWines Stay at Home Order, the OWEA office will be closed beginning Tuesday, March 24. While our physical office will be closing, we will still be serving our members just a little differently.

Our phones will be forwarded to staff at home during business hours and we will still be replying to emails. In anticipation of an event like what we are experiencing now, OWEAs general functions and operations were designed to be done remotely. While we dont anticipate any interruption in our service to you, we do ask for your patience as we adjust to our new and temporary normal.

Please continue to visit our website and specifically the COVID-19 tab for the latest updates and information. There are resources there for staffing shortages including contact information for licensed operators that are available to help. Office updates are also given via Twitter and LinkedIn, so if you arent already following us, please do using @ohio_wea for Twitter and Ohio Water Environment Association for LinkedIn.

We are all one big family and while we cant physically be together, we will get through this together.
---
Updated as of March 20, 2020 at 10 AM
We know you are trying to grapple with the chaos that COVID-19 has caused you both personally and professionally. OWEA is working to help your facility try and stay a step ahead of this virus. We are in daily communication with the Ohio EPA and have developed the following suggestion.
In response to the current COVID-19 situation and in anticipation of further challenges, OWEA in coordination with Ohio EPA, is asking you to consider starting your disinfection process early this year. As staffing becomes a possible issue, beginning this process now could prevent greater issues later on. Disinfection typically starts with the recreation season that begins May 1, but if it is within your capabilities to begin prior, we are encouraging you do so sooner.
We understand that not all facilities have the capability to implement early disinfection. We just wanted you to be aware of it as a suggestion to be better prepared for what could lie ahead.
We appreciate all you are doing to protect our most precious resource of water. Along with our healthcare workers, you are also heroes that dont wear capes during this pandemic.
---
Updated as of March 19, 2020 at 3 PM
We have officially rescheduled! Please see below for details. If you have already registered we will simply be transferring your registration to the new date. The locations remain the same as the originally scheduled events. If you have any questions, please contact our office.
Plant Ops/Laboratory Workshop
August 18 & 19
Nationwide Hotel & Conference Center


Charitable Outreach Social
July 30
Strongwater

---
Updated as of March 16, 2020 at 2 PM
Dear OWEA Member,
Last week was very challenging for all of us and the next few weeks will bring about additional challenges. Obviously, the situation is changing daily. The staff and Executive Committee of OWEA wanted to keep you informed of how the COVID-19 virus is affecting OWEA and our scheduled events.
The April 22-23 Plant Ops/Lab Workshop and the April 30 Charitable Outreach Fundraising Social are being rescheduled. We are confirming new dates ASAP. All registrations and sponsorships will be transferred to these new dates and we will make this information available as soon as we obtain it.

All March section events have been cancelled. Several late April section events are still currently scheduled but in a waiting pattern to see where this virus takes us.

The OWEA office remains open, but we are rescheduling meetings and utilizing virtual options. If the office needed to close, we would still be available via phone and email as we are set up to be almost fully remote.
The coming weeks will involve all of us changing our routines and how we are used to doing business. We are all in this together and will get through this together. Thank you for your patience as we work through everything.
Please stay healthy and safe.
Sincerely,
Dawn Larsen, CAE
OWEA Executive Administrator
---
Updated as of March 12, 2020 at 4 PM
While OWEA is aware of Governor DeWines mandate concerning gatherings of more than 100 people, we are unsure of the impact to our state events as a re-evaluation/end date hasnt been issued and future events are several weeks away. We will continue to monitor the situation and provide updates as appropriate.
---
Updated as of March 12, 2020 at 3 PM
The staff and Executive Committee of the Ohio Water Environment Association want to insure accurate and timely information regarding the COVID-19 virus is available to our members. There is much uncertainty regarding the virus, and we want to assure you that your health and safety are of our utmost concern.

OWEA and Section Events
Currently, we have not received any indication from any governmental agency, federal or state, that there is a requirement to cancel any state events. We are continuing to monitor the situation and will adjust as needed. Please visit www.ohiowea.org for the most up to date information regarding both state and section events.

What Can You Do?
We understand that you might feel helpless during this time, but there are things you can do.
Start thinking ahead concerning staffing at your plant. While the majority of your staff probably arent high risk, your employees might have to be absent due to school closings or the illness of a loved one. Plan now how you will deal with a reduction in available staff.

Use every day preventative actions such as:

WASH YOUR HANDS for at least 20 seconds with soap and water.

Avoid close contact with people who are sick.

Avoid touching your eyes, nose, and mouth.

Stay home when you are sick.

Cover your cough or sneeze with a tissue, then throw the tissue in the trash. If a tissue isnt available, sneeze or cough into your ELBOW NOT YOUR HANDS.

Clean and disinfect frequently touched objects and surfaces using a regular household cleaning spray or wipe. This includes your laptop and phone.

Get accurate information specific to Ohio at https://odh.ohio.gov/wps/portal/gov/odh/know-our-programs/Novel-Coronavirus/welcome/

STAY CALM. The best thing you can do for yourself, your family and your community is to stay informed and remain calm.