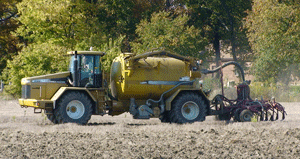 2013 Biosolids Workshop
Thursday, Dec 5, 2013
Registration & Information

2013 Member Survey
iPad Winner

David Low, of Montgomery County,
received a surprise delivery
of a new iPad!

Thanks to all who completed
the 2013 Member Survey.

Now Available




Call for Abstracts


Exhibitor Registration
Sponsor Opportunities

August 26-29, 2014 | Columbus


www.onewaterohio.org
The Ohio Water Environment Association
The Ohio Water Environment Association is a not-for-profit 501(c)(3) association that provides technical education and training for Ohio water quality professionals who clean water and return it safely to the environment. OWEA's nearly 2000 members are dedicated to the preservation and enhancement of our most precious natural resource ... WATER.
(more about OWEA)

2014 Sponsor Program details
2014 Workshop and Conference Calls for Abstracts
---
Nutrient Controls Costs Survey
The Government Affairs Committee requests your input on the Nutrients Controls and Costs at Public Wastewater and Water Survey. Read the full introduction from Dale Kocarek, Government Affairs Chair.

OWEA Holds Annual Mega Meeting


OWEA's leadership team, including Section Officers, Committee Chairs, Executive Committee Members, and Staff met at the Olentangy Environmental Control Center on September 11, 2013. The group reviewed OWEA's operations and planned for the upcoming year. In the afternoon, the Executive Committee took on the Section Presidents in a Certification Challenge. The EC managed a win, despite the strong showing by the Section Presidents. View all photos in OWEA's Photo Galleries.

OWEA and OEPA Sign MOU at 2013 OWEA Conference


2012-2013 OWEA President Tom Angelo and OEPA Director Scott Nally signed a Memorandum of Understanding establishing a cooperative relationship between the Ohio Water Environment Association (OWEA) and the Ohio Environmental Protection Agency (OEPA). The parties intend to focus on the exchange of technical information and education in the areas of wastewater and storm water infrastructure, treatment, and technologies to better promote environmental professionalism in Ohio.


(l-r) Scott Nally (OEPA Director), Doug Clark (OWEA Legislative Committee Chair), Tom Angelo (OWEA 2012-2013 President), and Dale Kocarek (Chair OWEA Government Affairs Committee)

Additional photos


OWEA Technical Review Group

submitted comments to Ohio EPA on Developing Rules to Reduce the Impacts of Nutrients in Surface Water

.



To learn more about the Technical Review Group - visit OWEA's Government Affairs Committee page or Regulatory/Legislative link.


WEFTEC Offers Complimentary Exhibition Access and OWEA Provides Free Bus Transportation for Members


Registration to attend the Technical Exhibition at WEFTEC 2013 in Chicago is complimentary! In order to get the complimentary rate, attendees must register online in advance of the show.

Register online at www.weftec.org and sign up for the free OWEA bus transportation.

Congratulations OWEA Ohio Stockholm Junior Water Prize and Ohio Science Day Winners

Ms. Alyssa P. Armstrong, Ohio Stockholm Junior Water Prize Winner

Ms. Karin Oh, $1000 Scholarship Winner

Ms. Bluye' B. DeMessie, $500 Award Winner



Ms. Charles M. Campbell, $300 Award Winner



Mr. Anastasia S. Johnson, $200 Award Winner

Photos and Project Titles


176 Attend OWEA Government Affairs Workshop




Ohio EPA Director Scott J. Nally, the opening speaker, addressed a full house at the March 7, 2013 Government Affairs Workshop. George Elmaraghy, Ohio EPA Division of Surface Water, followed the Director, providing the audience the latest in Ohio EPA updates.




(l-r) John Owen, GAW Workshop Chair (Ohio EPA), Dale Kocarek, GA Committee Chair (Stantec), Scott Nally, Director (Ohio EPA), Tom Angelo, President OWEA (City of Warren), George Elmaraghy, Chief (Ohio EPA DSW).





The strong speaker line-up continued with topics NPDES Permitting, WEF Government Affairs Updates, Planning CSO's, and Guidelines for Water Reuse from USEPA.


(l-r) Daniel Murray (US EPA), MaryLynn Lodor (MSDGC), Amanda Waters (WEF), Elizabeth Toot-Levy (NEORSD), Steve Haughey (Frost Brown Todd LLC) and not pictured Stuart Bruny (ORSANCO).

Are You Following OWEA?

Starting January 2013, OWEA followers can expect a targeted increase in Public Outreach posts via all OWEA Social Media sites (LinkedIn, Twitter, Facebook). This initiative is designed to provide membership with valuable information related to the industry and to build a stronger social connection to its audience. Briefs will include Regulatory Updates, Water Quality Outreach and Education, Ops Optimization Articles, and Job Postings/Event Announcements. We hope that this initiative is well-received by all! Thank you.

Investment in Water Infrastructure Creates Jobs, Drives Innovation, and Safeguards Public Health

During this partisan election season, a rare opportunity exists to stand together to support a truly bipartisan cause that affects every American – that cause is the desperate need to invest in our nation's crumbling water infrastructure. The widespread deterioration of America's water and wastewater infrastructure is reaching a critical stage. With this crisis comes incredible opportunity - forty years of data, experience and expert studies undeniably demonstrate that investing in water infrastructure creates jobs and boosts the nation's economy. If we fail to invest in water infrastructure, we do so at our own peril. Congress and the President must make investment in water infrastructure a national priority. Voters need to ask elected officials and political candidates what they intend to do to address these needs and ask our leaders to commit to making water investment a top priority.

(read more)

Support Clean Water Funding Initiatives

Ohio is in a unique position to help raise the national awareness for this issue because we are a swing state in the upcoming presidential election. We hope that you can encourage your community to support a resolution that speaks to the need of national funding programs for water infrastructure. The resolution (linked below) is a draft that can be modified to fit your community's needs.

Submit a Roll Call Announcement

Were you promoted to a new position or did you recently change your place of employment?

Let your colleagues know in the Roll Call section of the next Buckeye Bulletin. Complete the Roll Call Submission Form. (Announcements published for OWEA members. Not a member yet? Memberships available.)

US EPA Final Clean Water Act Methods Update Rule
EPA has issued a final rule to approve several new or revised analytical methods, or test procedures, for measuring regulated pollutants in wastewater. Please vist the EPA website for more info.

Be a Voice for Water

Tell a friend, tell a neighbor, tell the world what water's worth to you!

Welcome to WATER'S WORTH IT, a new messaging campaign from the Water Environment Federation that aims to raise awareness about the value and importance of water, water-related issues, and the water profession. We encourage you to learn more about this exciting new effort and how you can help WEF be a voice for water.

OWEA Raises Public Awareness of Proper Disposal
of Pharmaceutical and Personal Care Products