October 3-4, 2019
Nationwide Hotel and Conference Center
100 Green Meadows Drive
Lewis Center, OH
Group Rate $135/night

---
13 possible contact Hours!
Come attend the 2019 Plant Operations and Laboratory Analyst Specialty workshop!
Our keynote speakers for this year include:
Thursday, October 3rd, Eric Wahlberg, Wastewater Technology Trainers. Eric will be covering approaches to dealing with wet weather flows: Minimum sludge quantity and maximum sludge quality
Friday, October 4th, Sidney Innerebner from Indigo Water Group, author of WEFs new Wastewater Treatment Fundamentals series. Sidney will be sharing stories from the trenches of how poor information can lead to poor decisions and the importance of process control samples.
Sidney and Eric will also be talking together on Friday sharing some lessons learned from across the county on what to and what not to do.
Our keynote speakers will be speaking to both our operators and lab analysts in joint sessions. Aside from that we will also be featuring concurrent sessions with lab and operations focuses.
Round table discussion with our speakers from Day 1.
Operations:
Plant profiles from each section. Operators worse day, living through the challenges.
Lab analyst:
New Developments in analytical instruments
New TN limits and the lab technique and solution to respond
ORP, versatile but misunderstood
TOC in water and wastewater applications
Control charts.who need them
Ohio EPA credible data program
The best and worst days in the lab and how to trouble shoot
---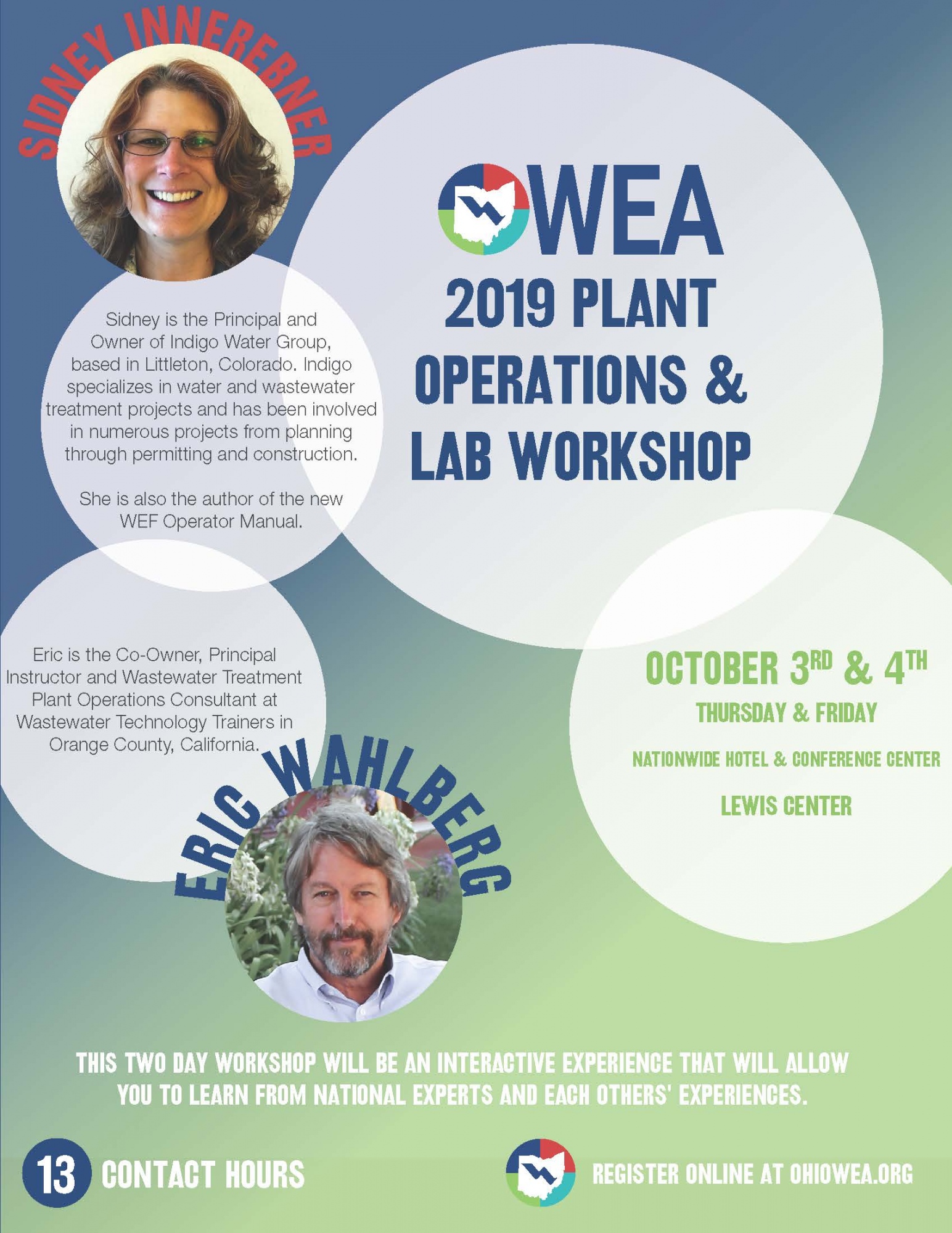 Pricing
Full Workshop Member: $295
Full Workshop Nonmember: $395
One Day Member: $185
One Day Nonmember: $235
Member Exhibitor: $425
Nonmember Exhibitor: $525
Note: Members MUST login to receieve membership rates. If you do not remember your login credentials follow the "Forgot Password" during the login process or email info@ohiowea.org to reset your password.