News
---
Stay connected to OWEA via LinkedIn and Twitter

Want to be "in the know" with what's happening with OWEA?

Be sure and follow us on Twitter (@ohio_wea) and connect and follow us on LinkedIn (Ohio Water Environment Association).

This is just another way we are communicating and trying to deliver information about YOUR association in a format that YOU will use!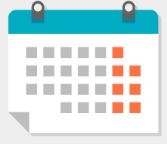 Event Calendar
Take a look at the OWEA calendar
OWEA Calendar
1890 Northwest Blvd, Suite 210
Columbus, OH 43212
614-488-5800
---