The Ohio Water Environment Association holds four to five Specialty Workshops and an Annual Technical Conference with an extensive technical program each year.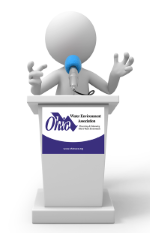 Share your experiences, successes, and lessons learned at one of OWEA's Specialty Workshops or the Annual Conference as we work together to provide technical education and training for Ohio water quality professionals who clean water and return it safely to the environment.

The OWEA Collections Committee is soliciting presentations for the 2017 Specialty Workshop being held May 2nd, 2017. The Specialty Conferences is anticipated to cover a wide variety of topics in Collections Systems. Please let us know what you would like to share with other environmental professionals from around the State of Ohio.
2017 Collection Systems Call for Abstracts Submission - Deadline: March 3, 2017
Date of 2017 Collection Systems Workshop - May 2, 2017
Nationwide Hotel and Conference Center, Lewis Center, OH

2017 Collection Systems Workshop Abstract Submission Form

Suggested subjects:
Alternate Collection System Projects and Operational Experiences

Green Infrastructure Projects and Maintenance

CSO and SSO Long Term Control Plans

G.I.S. and information transfer in Collection Systems

Asset Management of Collection Systems

Pump Station Rehabilitation

Collection System Maintenance

Pump Station Flow Analysis

High Efficiency Pumps

Odor Control at Pump Stations and in Collection Systems

Pump Station Controls and SCADA including VFD's

Fats, Oils, and Grease Handling in Pump Stations and Collection Systems

Pump Station Maintenance

Force Main Air & Vacuum Release Maintenance and Design

Electrical Safety
Presentations should be 25 minutes in length, with a 5 minute question and answer period. Deadline for submission is March 3th, 2017.

Speaker and Presentation Protocol:
The best papers document actual case studies and projects as opposed to research or theory.

Papers shall not be used to engage in advertising or selling equipment or professional services.

Several criteria will be used to evaluate the abstracts, including originality, project status, technical merit, significance, and overall quality.

Manuscripts will be subject to revision or rejection if lacking in quality.

Accepted authors who do not submit a manuscript by the required deadline will be removed from the program

OWEA does not offer honorariums, or pay travel or lodging expenses.

Presenters are extended a $50 discount on workshop/conference registration fees at OWEA events. Please contact OWEA at 614.488.5800 or info@ohiowea.org to register so we may apply your discount. Or request the speaker discount code from the workshop chair.

If you just plan to be onsite to give your presentation, OWEA does not require you to register. We will not include you in any meal or facility counts.

If selected for giving a presentation, the speaker shall agree to present the final version to the Program Chair no later than the announced date.

Presentations will be converted to PDF's or PowerPoint Slide Shows and posted to www.ohiowea.org at the conclusion of the event.