Keep Ohio Waters Clean
You can help keep Ohio's waters clean.
Do not flush medicines (prescription, over-the-counter, vitamins, patches) or personal care products (PCP's) down the drain or toilet.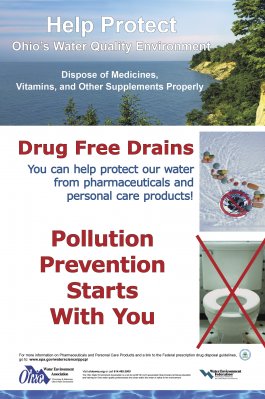 EPA Draft Best Management Practices for Health Care Facilities
US FDA – recommends flushing certain unused medicines
---
Top Ten Things Not to Flush
The Ohio Water Environment Association surveyed Ohio's water quality professionals to determine the "Top Ten Things Not to Flush". Please keep in mind that everything that is flushed or put down a drain has to be cleaned and removed before treated water can be released into Ohio's waters. As one water qualitiy professional wrote "if you didn't eat or drink it, don't put it down the drain".
Medications


Prescription, over-the-counter, vitamins, illegal drugs, patches, and hypodermic needles


Cloth


Cleaning rags, nylon stockings, underwear, shop towels, mop heads, dental floss


Feminine Products


Sanitary pads, tampons, applicators


Plastic




Plastic bags, plastic cotton swabs, disposable lighters, hotel shampoo bottles




Chemicals


Cleaning products, herbicides, insecticides, solvents


Grease




Auto, industrial




Wipes


Baby wipes, "disposable/flushable" wipes, personal hygiene wipes, and cleaning wipes


Cooking Oil/Grease


Fats, oils, cooking grease - used or unused


Condoms


Condoms and condom wrappers


Diapers




Paper or cloth, no matter how dirty, please dispose of in trash