Procedures for Obtaining Contact Hour Approval
Ohio Water Environment Association
These procedures have been developed to standardize the process for applying for, reviewing, and receiving OWEA-approved course numbers. Effective May 22, 2007, OWEA received authority to become an approved training provider per OAC 3745-7-15(E). The following procedures shall be followed by all OWEA Sections, Committees and authorized personnel to obtain course approval.
Procedures:

All training wishing to receive approval shall be documented using the current version of Ohio EPA "Form A". This form contains all of the information that is required to determine if the training has relevancy, as well as having all the information required to be maintained for 3 years after training is provided. Contact Hour Course Approval Application PDF or Word (rev. 2/2015)
The Responsible Trainer (person responsible at the Section, Committee or Annual Conference level for coordinating training being applied for) shall complete each Form A as best as possible. Insure the primary and secondary instructors have at least 3 years applicable experience in the field of their topic. Inclusion of instructor's professional biography showing at least 3 years of applicable experience is encouraged.

Form A's must be submitted to OWEA's Contact Hour Chair Marc Morgan:
On or before the 25th of the month preceding the month the training occurs
(see sample below – Form A's due for Sep training by Aug 25.)
If the 25th falls on a Saturday or Sunday, the Form A's are due the preceding Friday.
(See sample below - Form A's due for Aug training by Jul 24.)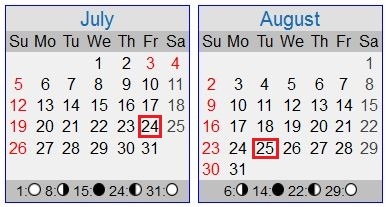 Form A's and all supporting documents should be submitted in electronic form (email attachment) to Marc Morgan at
Alternate submittal forms (fax or regular mail) will be accepted (see contact information at end of this document).
Marc Morgan or alternate authorized persons shall review each application for completeness. If approvable, training shall be approved in one of four types: Wastewater O&M, wastewater and water O&M, wastewater "other", or wastewater and water "other". Criteria used to decide relevancy shall be that listed in the "Stakeholder's Guidance regarding Contact Hour Approval" (see attachment). Course approval numbers shall be assigned using the following format:

| | |
| --- | --- |
| Type of Training | Course Number Format |
| | |
| | |
| | |
| Wastewater and water "other" | |
OWEA will provide a list to Ohio EPA of training intended to occur during the next month by the last day of the previous month. OWEA will maintain a master list of training that has been approved and post it on OWEA's web page.
The Responsible Trainer shall:
Insure each training course is provided by the primary or secondary instructors listed in the course application;




Insure each training course last at least as long as scheduled. Minimum course time is 30 minutes. Training should be provided in periods of 30 minutes, 45 minutes, etc.;




Provide a signed attendance receipt to each person attending their training. The receipts should be signed by the Responsible Trainer or a recognized organization leader in attendance at the training;




Keep a copy of each attendance receipt;




When training event is complete, send copies of the attendance receipts along with an attendee list and copy of training announcement to OWEA main office (see address at end of document) within 30 days;




For training coordinated by OWEA Sections, it is highly recommended for the Section to keep a copy of the attendance list for their records.
Contact Information:
Ohio Water Environment Association
1890 Northwest Blvd, Suite 210
Columbus, OH 43212
Phone: 614.488.5800
Fax: 614.488.5801
Email: info@ohiowea.org
Ohio Administrative Code Regarding Contact Hour Approval and Certification
Refer to Sections 3745-7-05 to 3745-7-18 for additional information
3745-7-15(E)
(E) Contact hour course approval.
(1) All training for the purpose of obtaining contact hours shall be approved by the director.
(a) Training providers shall submit requests for approval of training prior to the training event or within thirty days after completion of the training event. Training providers or operators may request approval of college courses, out-of-state training, or correspondence courses within thirty days of the completion of the training on a form provided by the director.
(b) Approval of training shall be based on:
(i) Identification and qualifications of the instructor, who shall have at least three years experience in the subject for which they are providing training, or equivalent experience as determined by the director.
(ii) Content of the training, which for courses over one hour in length, shall include an agenda which distinguishes training time from breaks.
(iii) Applicability and relevance of the training to the operation or management of a public water system or treatment facility, water distribution system, treatment works, or sewerage system, and
(iv) Verification of attendance at the training event.
(c) Each approval shall include an expiration date no later than three years following the date of approval.
(F) Approval of training providers.
(1) As an alternative to the process listed in paragraph (E) of this rule, training providers may request approval as a contact hour provider on a form acceptable to the director, provided they:
(a) Provide training that is applicable to the operation or management of a public water system, treatment works, or sewerage system;
(b) Use instructors who have at least three years experience in the subject for which they are providing training, or equivalent expertise as determined by the director;
(c) Have provided courses approved by the agency in accordance with paragraph (E) of this rule for a minimum of three years;
(d) Have been previously approved to provide a minimum of twelve contact hours;
(e) Assign each class provided with a unique number that identifies the provider, class number, and subject;
(f) Maintain attendance records, a course syllabus (including an agenda which distinguishes training time from breaks and lunches) and instructor qualifications for each course given for a period of three years from the date of training;
(g) Assign contact hours only for the amount of time spent on training. Providers shall not give partial credit for courses;
(h) Assign a subject to each class (i.e., operation and maintenance or other.);
(i) Provide the director with a list of scheduled training by the first day of the month for each month that training is offered. This list shall include the name of the course, the training provider's approval number, the time, date, and location of the training, along with the number of contact hours assigned; and
(j) Upon request, be capable of providing a record of student training to the agency or the student.